2015 LOCAL ARTISTS, PHOTOGRAPHERS & WRITERS
To submit your information, send your profile to localartevents@art-Tique.org. Subject line should be: Local Artist /Writer Profile.

Photos are optional. For more information contact Gail at 559-960-2428. All information must be submitted via e-mail.
ANDREW S DALEY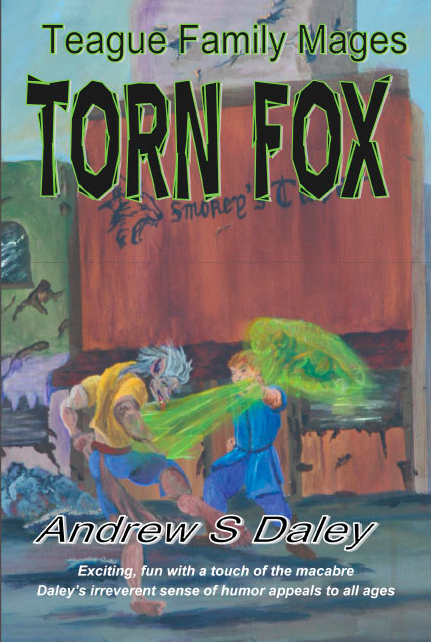 Andrew S. Daley was born in Fresno, California. He has always loved stories in any format. His favorite genres range from horror/action to Christian/comedy. Andrew has always been especially interested in the fabulous worlds depicted in Video Games and Sci-Fi books and television. When he was 13, he asked his mother if she had among the families numerous collections of novels, any stories about a young man with a dragon for a friend. His mother recommended the Wizard in Rhyme series by Christopher Stasheff and Robert Aspin's Myth Adventure series. He read them and he was hooked. It took him a week to finish the first book and by the time he finished the series, he was down to completing the novel in one or two days. When he ran out of other peoples novels to read, Andrew began creating his own adventures in his head.
He has just published his first novel "Torn Fox"."Torn Fox" is a new Mage series about a pair of teenage twins living in a world destroyed by the Dragon Wars Torn Fox is exciting and funny with a touch of the macabre. Fifty years after their world was destroyed in the Dragon Wars, humans have begun to rebuild their society with the very energy source that helped them survive the war-- Magic…In the war, Modern Technology was shattered, paranormal creatures came out of hiding, and the polar icecaps melted in the fight for survival. In a post-apocalyptic world where magic works instead of electricity, teenage twins Craven and Tom try to master their new Mage skills while trying to pass school tests, survive werewolf attacks, Esprits, a mysterious new sister, a meddlesome specter and a missing older brother! The book is now available in e-book format on Kindle and will soon be available on I-Books and Nook. Hard copies can be ordered from his web site (www.worldsofandrewdaley.com), the Kingsburg Arts Center and in the Historic Water Tower Gallery in Fresno.
DEBORAH G PEPIN, ARTIST
WATERCOLOR, PEN/INK, POURED INKS
Phone 559-288-5507
E-Mail pepin61@msn.com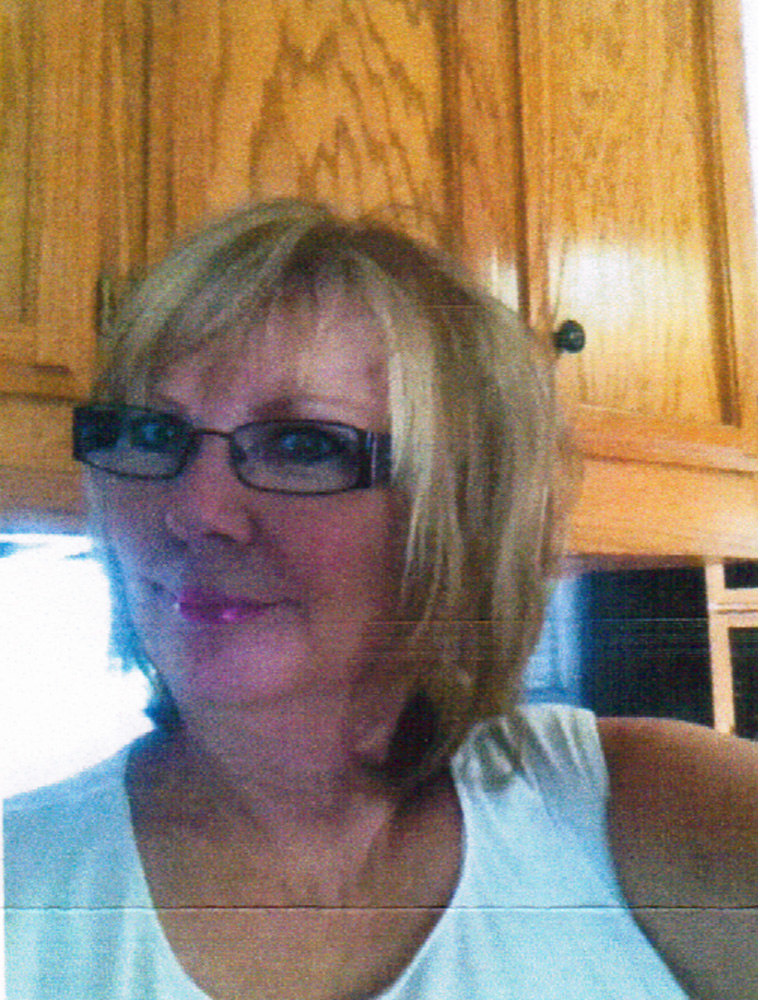 I have always been a dreamer and a doodler; always loved anything artsy. My folks thought it would be best if I concentrated more on my schoolwork and quit daydreaming and doodling. I didn't listen.
At the age of twelve years, I went to work for my Father, who owned a silk screening company, Screen Print, Inc. It was there I fell in love with color, texture and the combination of them both.
During my mid-twenties, I went to trade school at Kodak Company in San Francisco, and became a lithographer. I stayed in the graphic arts field for many years. After a wonderful career and raising a family, I was diagnosed with multiple sclerosis. My professional career ended, and after a two-year period of mourning a job loss, I took a watercolor class with a local artist and I was hooked. I believe to this day that ART saved my life.
I still watercolor today, and explore creativity with intense pigmented inks, pen and ink, ink on silk and of course my doodling. I carry a camera wherever I go because you never know when the opportunity might present itself and I like to be ready.
I have won local art shows and my art graces many homes in the San Joaquin Valley. I continue to show in local shows, and my work is on display at local galleries as well as galleries on the central coast.
The last six years I have experienced a personal growth with my art, and have a much deeper appreciation for this wonderful gift!
Deborah G Pepin
LOCAL ART ASSOCIATIONS

MULTI-ARTIST GALLERIES
To submit your information, send your associations profile to localartevents@Art-Tique.org. Subject line should be: Local Art Association

Profile. Photo or logo is optional. For more information contact Gail at 559-960-2428. All information must be submitted via e-mail
PLACERVILLE ARTS ASSOCIATION
The Placerville Arts Association is El Dorado County's oldest non-profit art group in continuous operation since it was formed in the early 1960's. The current membership of approximately 190 includes both artists and patrons of the arts.
The purpose of Placerville Arts Association is to promote visual arts in the local community through art shows, exhibitions, art demonstrations, workshops, scholarships and art oriented field trips. Annual dues are $25 for individuals or $40 for a couple.
Placerville Arts Association provides community outreach programs by offering yearly scholarships to graduating high school seniors pursuing art related careers; awarding monetary grants to elementary school art programs; and donating a scholarship grant to the Sugarloaf Student Art Camp.
The Placerville Arts Association's monthly general meetings are held on the 3rd Sunday of each month from 1:30 to approximately 3:30. If there is a change of dates, it will be posted on this page. Something New for the Member Meetings – Please Participate!
We'd like to spend some time at each of our monthly meetings focusing on what you're doing! So, please bring any of your pieces that you'd like to share or receive feedback on. We'd love to hear the story of your creations, either completed or in-progress.
Also, if you've been to workshops or paint-outs, please bring your work to show. I think we grow so much by sharing our work with others.
And, along those lines, we're also introducing a monthly "theme" and inviting members to create something to that theme and bring it to share. No restriction on media – just be creative! Our theme for January is VERY ORIGINAL – WINTER! We're looking forward to seeing what this wide-open theme suggests to you
The monthly general meetings are held at
Placerville Senior Center
937 Spring Street
Placerville, 95667
1:30pm - 3:30pm
Placerville Arts Association
P.O. Box 2180
Placerville, CA 95667
http://www.placervillearts.com/
ARTS VISALIA
"The purpose of Arts Visalia is to develop, foster, and promote the arts as central to the quality of life in Visalia." Arts Visalia is a 501(C)(3) nonprofit community arts center located in downtown Visalia, California. In our galleries we feature exhibitions of regionally, nationally and internationally recognized artists. Admission is free and open to the public four days a week. Throughout the year, Arts Visalia hosts a dynamic range of events including artist receptions, lectures, workshops, and other special events that nurture Visalia's visual arts community.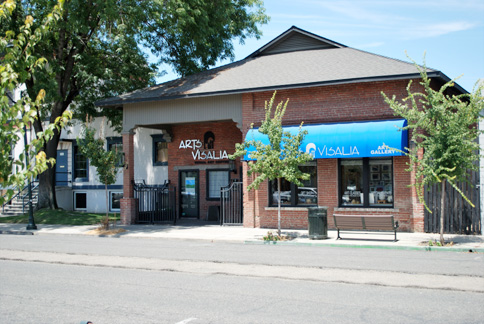 Our education programs include ongoing classes for adults as well as after school and weekend classes for children. Our Children's Summer Art Program grows each year, offering several weeks of art camps for children five and up. Through generous support from private and public donors, our scholarship programs for kids provide opportunities for dozens of youth each year.
Arts Visalia began in 1994 as the vision of group of artists and art lovers dedicated to creating a permanent exhibition space for the visual arts in Visalia. Following recognition as a non-profit organization, the original Board of Directors began a capital campaign through which the organization was able to purchase the historic Golden Creamery building that is now our home. This was made possible through the generous donations of many individuals and businesses, together with a matching loan from the City of Visalia Redevelopment Agency and a grant from the California Arts Council. The vision became a reality when, after a complete renovation led by numerous volunteers from throughout the community, our doors officially opened in January 2001.
Today, Arts Visalia has established itself as the premiere visual arts venue in the community. Our diverse exhibition schedule features the work of regional, national and internationally recognized artists, with an emphasis on local talent. Our goal is to provide opportunities for artists at many different levels of experience to show and sell their work.
Our adult and children's educational activities continue to grow while our community outreach efforts expand year by year. Through a year round calendar of events, community members of all ages come together to express their creativity and be inspired by that of others.
Arts Visalia welcomes applications from artists who would like to be considered for exhibition opportunities. Our exhibition selection committee meets approximately twice per year to review applications. Please be aware that the exhibition selection is performed by a group of dedicated volunteers and that the committee may not respond to your application for a period of three to six months from the time of submission depending on the committee schedule. Portfolios will be kept on file by Arts Visalia for consideration for future opportunities and will not be returned to the artist.
Do not send images or information through email. Packages may be dropped off at the gallery, but we will absolutely not review the submission in presence of the artist or discuss the work at that time. It may take several months before we come to a decision; should we be interested or have any questions, we will contact the artist. Please, no calls or emails to inquire about a submission.
ALL SUBMISSIONS SHOULD CONTAIN THE FOLLOWING:
Cover letter describing exhibition proposal.
Ten to twenty (10-20) digital images on CD/DVD. Images should be presented in JPEG format with image size set to 300 dpi resolution, 4" x 6" image size, approximately.
Artists may provide a link to their professional website, but please note that websites or online portfolios do not replace the actual submission.
Image description list (including thumbnails of images, title, medium, size, price/value and date of completion).
Artist Resume including biography, educational background, and exhibition record.
Mail to: Gallery Director, Arts Visalia, P.O. Box 251, Visalia, CA 93279
ARTISTS AT TIMBERLINE GALLERY
CREATE QUILT BLOCK MURAL
By Vivian Helena
Thought you might like to see what we have installed in Oakhurst, if you have any questions please contact me… I also have the photos on my blog "creates". See below, Vivian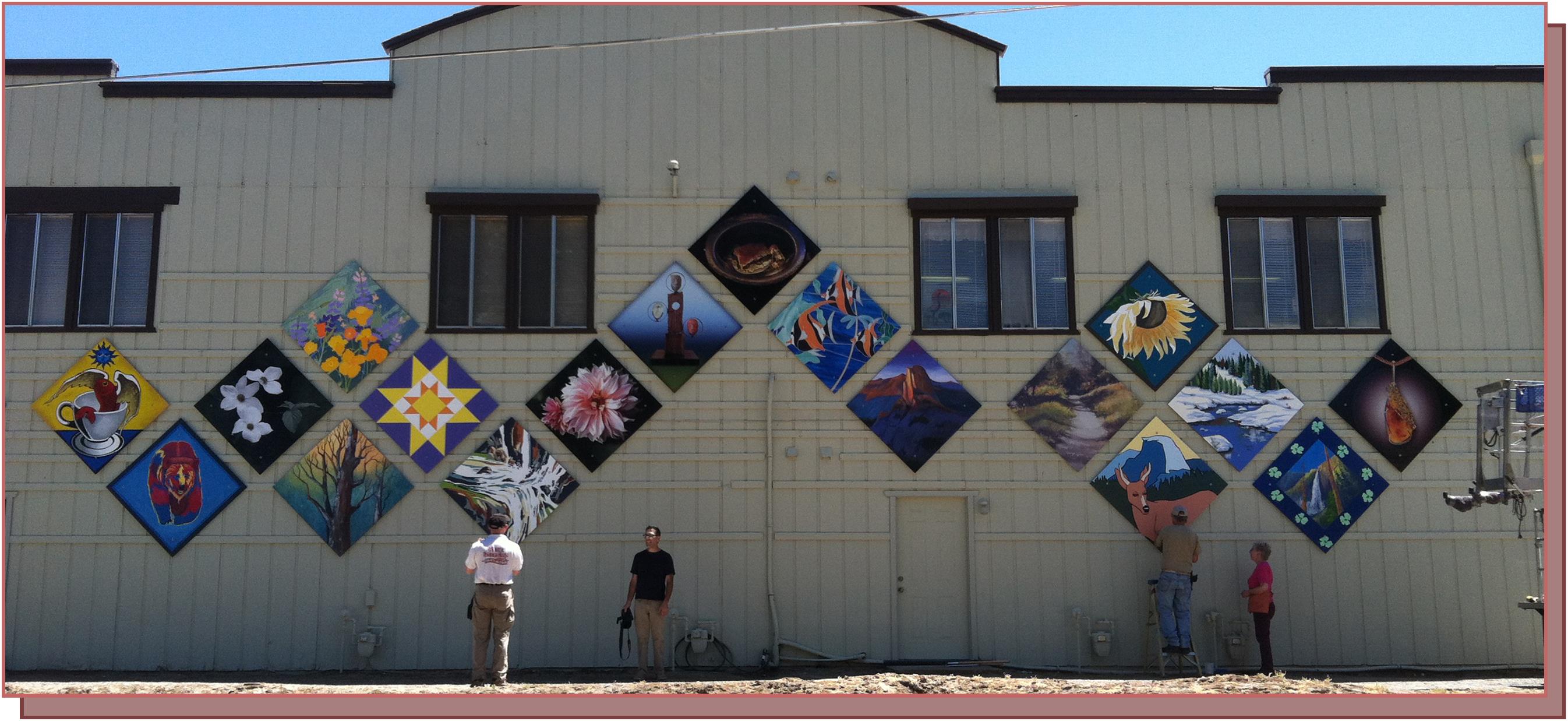 http://vivianhelena.com, http://vivianhelena-creates.blogspot.com/, http://vivianhelena-riverwind.blogspot.com/, http://postmarkdart.com/ , http://galleribba.com/
Timberline Gallery had a board meeting regarding the 150-year Yosemite National Park Celebration and what we could contribute to the event. Discussions followed regarding painting a mural, but most of us do not get on ladders. Vivian Helena Aumond-Capone, a fiber artist and quilter, suggested Quilt Blocks. There is a spreading interesting in Barn Quilt Blocks and suggested that we consider something on that style. We contacted Lake Country Calif., for information on their Quilt Trail of Barn Quilt Blocks for information. Usually they are done on 8'Squares. But in order to accommodate the artists, and the ease of handling, our chief creative, engineering and construction artist, Jacqueline Kurtt, decided we could make 4'x4' boards, and hang them on the back outside wall of the Timberline Gallery, at Gallery Row, Oakhurst.
This project is 70 ft. long and 2 stories high, 19 artists from Gallery Row, contributed their talent to this mural. We are a co-op Gallery, meaning the artists sit the gallery, drop in to say hello. The artist at the gallery that day can answer any questions you might have about the Art Quilt Blocks. If you would like an Art Quilt Block on your barn or Tuft shed, contact our gallery.
Jacqueline did all the research, paint, wood, bolts, and contacted the proper installation people. The artists did the purchasing of their supplies locally, H &L Lumber, True Value, Martignoni Glass Comp. Ahwahnee Heating and Air Conditioning for templates; Kelly Moore Paints were used to paint 5 layers of paint over 3 layers of primer that Jacqueline has personally painted for a base. Michael Muscato of Art Signs did the printing of the photographs. If I missed someone, my sincere apology. It has taken many helping hands to complete and our goal.
This has been a large project with a great expense. We are hoping that you appreciate our welcome to Oakhurst driving in from the North on Hwy 41. We would appreciate any donations possible as one of the artists put up their personal monies for the construction changes. Please drop in and let us know how you are enjoying the Art Quilt Block Mural on our building. Donations can be sent to Timberline Gallery, 40982 Hwy 41, Oakhurst, and Attn.: Janet Morita, President
Clay Mix

Clay Mix opened its doors to the public in May of 2008 in Fresno, California. The gallery is committed to exhibiting outstanding contemporary ceramic art by established and emerging artists nationally and internationally. In addition to organizing exhibitions at the gallery, Clay Mix offers studio spaces, classes, workshops and lectures to the public. Clay Mix also collaborates with local schools and colleges to educate the public about ceramic art. Clay Mix offers studio space for ceramic artists and students who can work independently. Clay Mix offers pottery classes. We limit only 10 students in each class so that everyone receives individualized instruction from an instructor. All levels are welcome. can use the studio during our regular business hours. Instructors: Craig Easter has been selling his pottery nationally for over 35 years including at American Craft Council shows. Craig is a member emeritus of Association of Clay & Glass Artists of California. He has been sharing his knowledge with his students at Clay Mix for the last five years. David Hicks holds a Master of Fine Arts from New York State College of Ceramics at Alfred University. David has been exhibiting his work internationally. His work can be found in permanent collections including the World Ceramic Exhibition Foundation in South Korea and the US Embassy Art Collection.
ritsuko@clay-mix.com
1003 N. Abby Street, Fresno, CA 93701
Phone 559.485.0065 Fax 559.485.0260
Hours: Mon-Fri 9:30am - 7:00pm Sat 10:00am - 5:00pm Closed on Sundays and holidays
Phone: 559.485.0065 fax: 559.485.0260 www.clay-mix.com
The Door Art Gallery in Fresno is locally owned and exclusively features the work of regional artists. "The Door" as it is called, was founded in 1995 by a group of Fresno artists as a place to paint together, show their work and offer art classes in Fresno. The art gallery continues to be both a place to find wonderful artwork and a friendly venue to obtain hands-on education and experience.
Many different mediums are shown at the gallery, among them: pastels, watercolors, oils, acrylics, digital woodcuts, sculpture and metalwork.
The constantly changing inventory means there is always something new for you to view.
Both framed and unframed paintings are available. You will find a range of prices that make our work highly accessible. We invite you to browse our current inventory and acquaint yourself with our artist members' work-on line and in person.
Many types of art classes and workshops are offered at the gallery. Artists in Fresno can participate in open studio opportunities for life drawing, classes in painting with oils, watercolors and working with pastels. Occasional workshops are offered with artists and teachers from outside the area.
The Society of Western Artists holds its meetings at the gallery and guests are welcome.
The Door Art Gallery
3073 W. Bullard
Fresno CA 93711
Phone: (559) 261-1610
Art Gallery Hours:
Thursday 10am to 5pm
Friday 10am to 5pm
Saturday 10am to 3pm
Classes
Workshops
Demonstrations
Carnegie Art Center

The historic Carnegie Library opened in 1916, one of more than 1,600 libraries built by Andrew Carnegie across the U.S. It served as Turlock's library until 1968 and has been used as an arts center since 1979. In November 2005 a fire destroyed everything but its exterior walls. The City of Turlock and the Carnegie Arts Center Foundation soon entered into a partnership to rebuild and expand the facility. Opening in September 2011, it is now operated entirely by the Foundation, a private, nonprofit corporation. The scorched walls of the original building can be seen from the lobby of the new addition, where they stand as a symbol of community resolve.
As one of only a handful of arts centers in the Central Valley, the Carnegie Arts Center in the City of Turlock is an arts center that is both local and regional in its perspective. It operates according to core values and in keeping with its mission of bringing diverse community and regional audiences together to experience and celebrate art in all its forms. The Carnegie's programs include exhibitions, education classes and programs, lectures, and activities in artistic genres as diverse as dance, music, theatre and more. At least 25% of our programming is dedicated to children and teens.
Carnegie Arts Center
250 North Broadway
Turlock, CA 95380
209-632-5761
Hours
Wed-Sun, 10 a.m. - 5 p.m.
Fresno Art Hub

For years I have wanted to be part of, or create a place like the Fresno Art Hub. Finally my son, Krishen Iyer, said "Lets do it!" With his backing and incredible business mind we have finally gotten this from a planning stage to reality. Thank you, Krishen, for believing in the Arts!
The Gallery: Once a month artists bring in new art to hang in the gallery in time for Art Hop, the first Thursday of each month from 5 to 8PM. The Fresno Art Hub represents a variety of artists including representational, abstract, sculpture, and jewelry.
Classes and Workshops: The main focus for the Art Hub is the art, which includes classes and workshops in watercolor, pastel, oil and acrylic, encaustic, and jewelry making. Teachers include Diane Breuer, Sue Porter, Linda Pitts, Linda Caine, Diane Abbott, and Sandy Whitcomb.
Contact
Fresno Art Hub
2005 N Van Ness Blvd
Fresno, CA 93704
(559) 248-0148
Email: diane@fresnoarthub.com
Also: art@fresnoarthub.com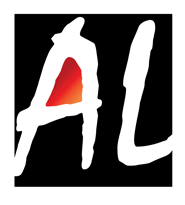 Santa Cruz Art League
The mission of the Art League is to function as an agent for the artistic experience. The Santa Cruz Art League encourages visual and performing arts in an environment that is supportive to the artist, to students, and to the community. Approximately twelve art shows are held each year, some for members, some juried, and some invitational. We hold three-hour, five- to six-week long classes and monthly weekend workshops throughout the year, as well as children's theater classes, theater productions, and monthly book readings and signings by local authors.
The Santa Cruz Art League was founded in 1919 by eleven landscape artists yearning for a place to meet in order to share their art, to teach, and to motivate one another. In 1885, many of these same people had started the first local art gallery and classes. Beginning in 1923, the second president lived in the basement of the local library and managed the property in exchange for exhibition space for the Art League on the walls of the city-owned building. The Art League was evicted in 1947 and the members recognized the need for artists to have a gallery owned by themselves. SCAL incorporated as a nonprofit in 1949 and bought a piece of property over a sinkhole resulting from the 1906 San Francisco earthquake. The dedicated members raised money for a building by having clothesline art sales, benefit teas, card parties, and by selling the individual bricks of the building. The current building was opened to the public in 1951. Until then, the Art League had exhibitions at other venues, always staying in front of tourists' eyes.
The annual Statewide Exhibition, which recently completed its 75th annual show at the SCAL gallery, used to be held in conjunction with the Miss California pageant at the Santa Cruz Beach Boardwalk and later at Treasure Island in San Francisco. During the depression of the 1930's, SCAL was one of the few galleries continuing to offer cash prizes. In the years 1951-1983, the Art League housed a well-known tourist destination, The Last Supper, a life-sized sculpture produced by a celebrated ceramist and a local wax sculptor.
Membership in SCAL has fluctuated throughout its recent history, from a low of 200 in the 1970's because of restrictions against "modernists" to a high of 800 during the "dot com" years of the late 1990's. For almost 100 years, the Santa Cruz Art League has bent and swayed and adapted to the times. It is a membership organization open to anyone.
The Santa Cruz Art League membership includes:
Quarterly newsletter and monthly calendar with announcements of exhibitions, receptions, classes, performances, and other events of interest., Participation in annual membership exhibit and weekend art fairs. Computerized images of your work displayed on the web and in our lobby for view by visitors and collectors as well as potential exhibition chair people., Ample opportunities to network with other artists, discover other exhibition venues and market places, and share techniques and supply sources., Discounts on art classes, advertising in the SCAL Newsletter, and 10% discount on purchases in the gallery or gift shop., Juried placements of jewelry, ceramics, textiles, or other craftwork in the gift shop. $75/year single membership
There are also many opportunities to help the Santa Cruz Art League. For instance, we rely on volunteer docents to greet and guide the public. Volunteers have fun helping with exhibits, receptions, and special events such as The Luck of The Draw, our annual fund-raising art auction with a twist. The Santa Cruz Art League is the place to meet people of all ages and backgrounds, immerse in the arts, and serve the community
Gallery Yosemite

22 Artists Who Love Yosemite Create a Gallery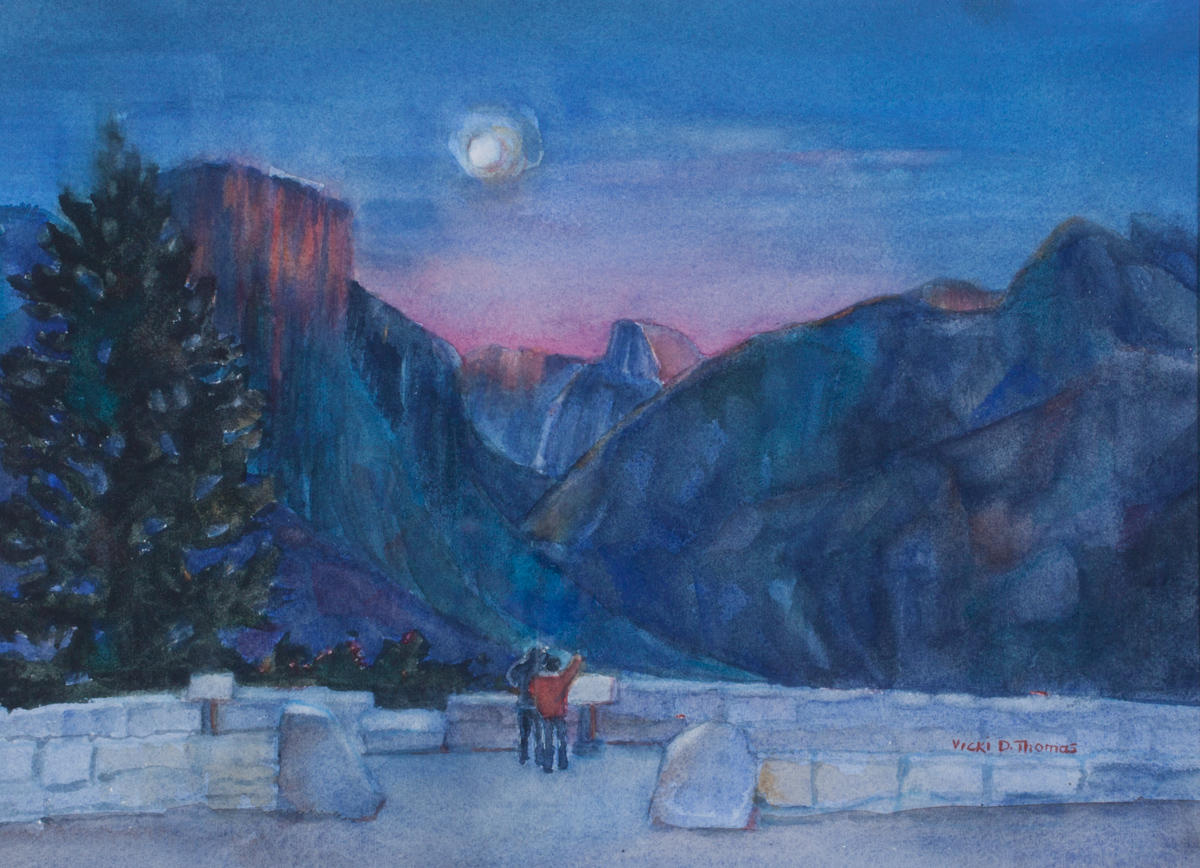 These dedicated and enthusiastic artists include Suzanne Banks, painter; Betty Berk painter; Moira Donohoe, painter; Laura Fisher, fiber artist; Andrew Erickson, photographer; Tom Gibson, photographer; Michelle Sonoqui Gillette, painter; Jerome Grimmer, painter; Mark Gudmundsen, painter; Mark Heliger, photographer; Jack Lantz, painter; Gretchen Lee, sculptor; Jeremy Obers, photographer; Christine Obers, digital artist/pastels; Wally Pacholka, photographer; John Peto, photographer; Craig Schub, painter; Sandee Scott, painter; Diane Stewart, painter; Vicki Thomas, painter; Merylyn Whited, jewelry designer/creator; and Zyg Zee, photographer.
Yosemite National Park inspires incredible awe for the twenty creative artists represented at Gallery Yosemite in Oakhurst. They are as enamored of Yosemite as were John Muir and Ansel Adams, so many years ago. Expressing joy and a sense of wonder through their work, these artists hope that their gallery becomes known as a center for quality art featuring Yosemite and the Sierra Nevada.
Yosemite alters the life of anyone who visits it, giving a renewed awareness of and respect for nature. Park visitors desiring a meaningful "keepsake" of their visit can find original artwork depicting Yosemite's grandeur, vistas, and more, at Gallery Yosemite, located near the southern entrance to Yosemite.
Professional photographer Mark Heliger, who spearheaded the formation of the gallery, says, "It's fascinating to see in one space the Yosemite icons — such as Half Dome, El Capitan, Mirror Lake — portrayed with such great variations in style and media."
Gallery Yosemite is located in Oakhurst's Gallery Row at 40982 Hwy 41, is accessed through Timberline Gallery, and open 7 days a week from 10-4. It also maintains an on-line presence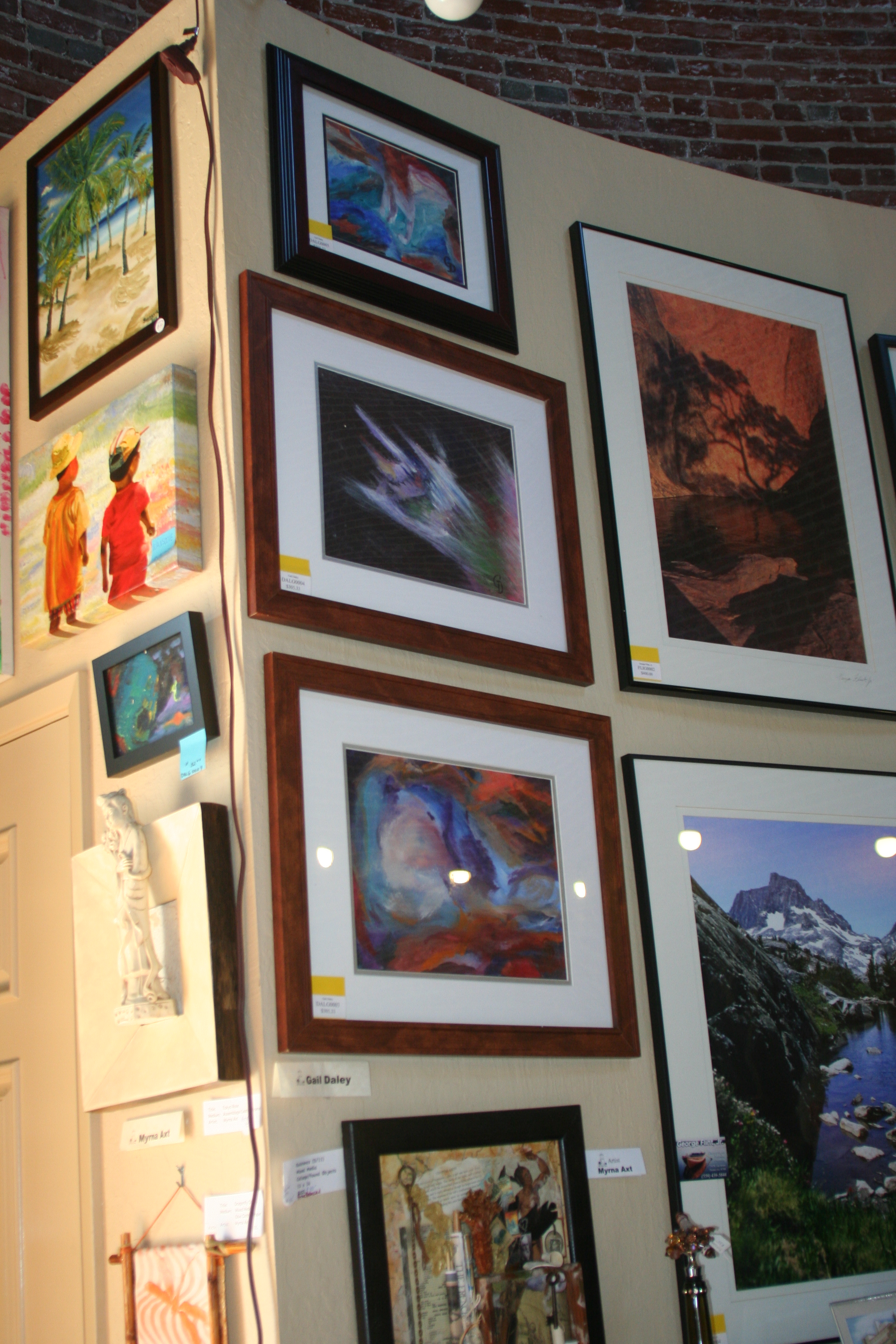 Art By Hand Gallery
Located At the Historic Fresno Water Tower
2444 Fresno Street, Fresno, CA 93721
559-477-6231
Open Monday – Saturday 10:00am - 4:00pm and the first Thursday every month for Art Hop 5 pm - 8 pm
Art by Hand is part of Hands On Central California (HOCC), a non-profit organization that provides volunteers for over 300 agencies in five Central San Joaquin Valley counties. 25% of sales from the gallery and gift shop go directly to HOCC to support their programs.
The Art By Hand Gallery features a variety of art media, all done by local artists. Sales benefit HandsOn Central California and 25% of purchase price is tax deductible. This is just a small part of the Art By Hand inventory. Art By Hand celebrates the rich cultural diversity of our region through items such as pottery, textile, baskets, clay, glass, wood, metal, jewelry as well as paintings, literature and photography. Art By Hand is run by a volunteer committee who seek and select local Central Valley Artists, Authors and Craftsmen. If you are interested in becoming a volunteer or participating artist, please call HandsOn Central California at (559) 237-3101 or email artbyhand@handsoncentralcal.org.
The Art By Hand Gallery is an integral part of The Art Hop/Jazz Hop; you can begin your Art Hop journey with the Gallery and then ride the Art Hop/Jazz Hop Trolley for the rest of Art Hop in comfort. The Trolley begins service at 6:00 pm at the Old Fresno Water Tower at Fresno and O Streets. Park in the parking lot at Eaton Plaza next to the Water Tower Gallery, hop the Trolley and ride all night for only $1.00. Parking meters are free after 6:00 pm. Get on and off as many times as you like. There is a docent on board who can direct you to your favorite destination and tell you a little about Historic Fresno Along the way. You might even catch some live Jazz on board. The Trolley runs until 8:30 pm.
The Art By Hand Gallery is located in The Old Fresno Water Tower, completed in November 1894 at the corner of Fresno and O streets for $20,000. The Fresno Water Company, then a supplier built the Water Tower to the City. Chicago architect George Washington Maher designed the building, patterned after a centuries-old water tower in Worms, Germany. The tower stands 100 feet high. An interior wall supports a storage tank that held 250,000 gallons of water. The base of red brick, covered by plaster; the 250,000-gallon tank, rising above the catwalk, is built of riveted steel plates imported from Sweden. What with the leakage and being out of step in the city's growing water system, the tank was shut down and drained in 1963. It was placed on the National Register of Historic Places in 1971. The water tower opened as a visitor center in 2001.
The Art By Hand Gallery is a unique gift shop that offers a distinctive shopping experience featuring the handcrafts and art of local talents at affordable prices. Art By Hand celebrates the rich cultural diversity of our region through items such as pottery, textile, baskets, clay, glass, wood, metal, jewelry as well as paintings, literature and photography.
Society of Western Artists
San Joaquin Valley Chapter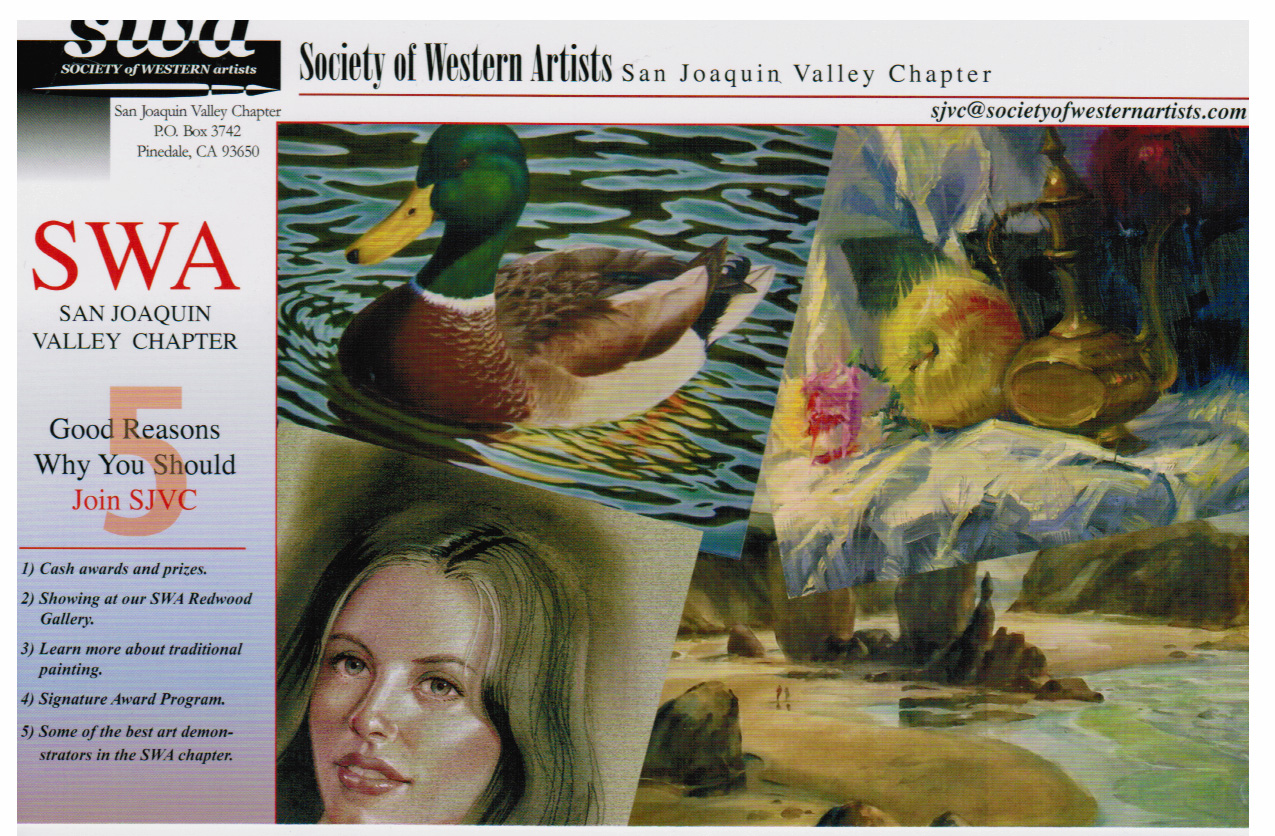 Welcome to the Society of Western Artists, a representational fine arts society located in Northern and Central California.
A LITTLE HISTORY
The Society of Western Artists was established in San Francisco during the 1930's in protest to the rise of Abstract Expressionism and many other changes going on in the art world at that time. It was originally call the "Society for Sanity in Art" and in 1939 changed its name to Society of Western Artists. It became the largest representational art society west of the Mississippi. "Western" refers to the "western tradition" in painting and sculpture that dates back to the Greeks and Romans.
Today, SWA is dedicated to and welcomes artists and art patrons that appreciate representational art and to the ongoing art education of our young people. Our members have been actively engaged in public school programs as artist volunteers and teachers for over 47 years.
WHAT WE DO
In support of the arts, the Society of Western Artists offers demonstrations and workshops by nationally recognized artists and juried competitions for our members. The aim of SWA is to encourage and promote our artists as well as to bring a closer relationship between the fine artist and the public.
Artist demonstrations are held monthly and several workshops are offered throughout the year. SWA's major show is our Annual Exhibition and numerous juried competitions are offered in our Redwood City Gallery.
Each artist accepted in the shows accumulate points toward their esteemed Signature Award. SWA is a member of the Council of American Artists Societies. Our membership of approximately 300 artists or patrons of the arts is dedicated to the pursuit of fine representational art and continuing education.
THE SAN JOAQUIN VALLEY CHAPTER
The San Joaquin Valley Chapter is located in Fresno and represents artists in the Central Valley. Meetings are held every 3rd Saturday at the Door Gallery, 3073 W Bullard, Fresno, CA 93711 (Fig Garden), at 1PM. To contact the San Joaquin Valley Chapter: Ron Jarvi 559-325-3836 or e-mail svjc@societyofwesternartists.com. Mailing address: POB 3742, Pinedale, CA 93650.
THE SAN FRANCISCO CHAPTER
The San Francisco Chapter is located in the Northern California city of Redwood City, approximately 20 miles south of San Francisco. Located in the Redwood City Art Center at 2625 Broadway Street it is the headquarters for SWA. Monthly meetings/artist demonstrations are open to the public and are held on the 3rd Saturday of the month from 1:00 pm to 3:00 pm. SWA San Francisco gallery hours: Wednesday - Saturday 10:00 am - 3:00 pm 2625 Broadway Street Redwood City, CA 94063 (650) 839-1318 www.societyofwesternartists.com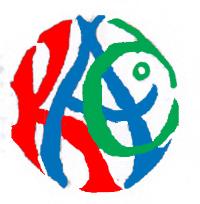 Kingsburg Arts Center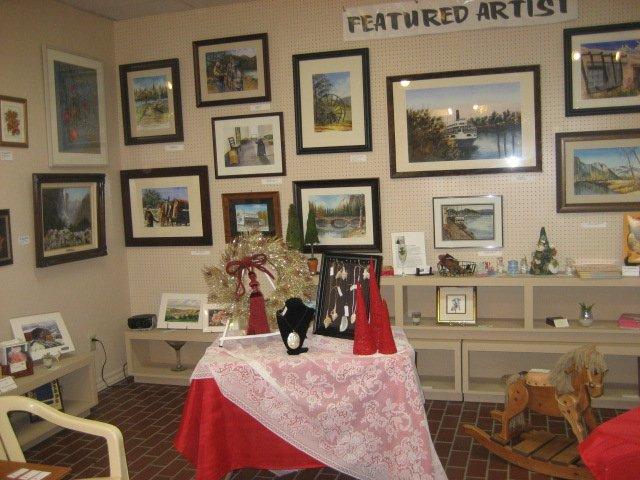 The Kingsburg Arts Center was created to promote interest and develop an appreciation of the arts throughout the local community. We have established a permanent fine arts center for the use of art patrons, amateur and professional artists, photographers, writers, educators and students. We strive to foster activities providing opportunities to study the arts in all its different forms.
Every two months our talented local artists bring in new work for your viewing pleasure (and purchasing!) In the 3rd week of May, we sponsor a fine art show in conjunction with the Swedish Festival celebrated in Kingsburg. Everyone is encouraged to come and see the show and enjoy the Festival.
Local writers are encouraged to place their work with us and we promote an "author signing" on the day they sit the gallery. We are proud to announce that we have copies of Doug Hansen's new book "Aesop in California".
If you have questions about the center please contact either our president Pam Kjar at 559-897-4449 or our Art Center Director Gail Daley 559-960-2428, or
visit us on the web: http://kingsburgartcenter.webs.com/
Gallery 25

Formed in 1974, Gallery 25 is one of the oldest cooperative galleries in the country. Located in downtown Fresno, the gallery has been a forum for contemporary art since its inception.
Gallery 25 provides a cooperative venue for the development of artists in an atmosphere of mutual freedom, respect, and support. It also provides educational activities with the visual arts in the context of the greater community of the Central Valley.
Gallery 25 is a non-profit organization dedicated to educating the public. Seminars, discussion groups and classes are held in relation to exhibits. The gallery also participates in national and international exhibitions and gallery exchanges. Gallery 25 is an artists' cooperative where artists work together to manage all aspects (aesthetic, practical, financial) of this working professional gallery.
Gallery 25 is located at 660 Van Ness Avenue (at Mono in downtown Fresno), Fresno, CA 93721. Gallery Hours are Fri/Sat/Sun Noon-4pm. For further information, contact Gallery 25 at 559.264.4092 or www.gallery25.org
Gallery viewing available to groups at scheduled appointments. Please call 559.298.2651 to schedule a viewing.
Alliance of California Artists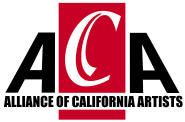 The Alliance of California Artists is a non-profit organization with more than one hundred active artists. Promoting and supporting visual arts is our mission and we are proud to give back to the community by funding two student scholarship funds each year.
ACA invites you to consider becoming a member.
Membership entitles you to attend monthly art demonstrations on the second Saturday of each month (except July & August) at the Fairfield Inn, 50 Clovis Ave. in Clovis. This is an opportunity to learn art techniques from experienced artists and network with others who share your love of art.
Members can also participate in ArtHop at the Fresno Arts Council Window Gallery located on 1245 Van Ness Ave. in Fresno. This is an opportunity for ACA members to display and sell their art.
ACA sponsors several juried member shows throughout the year and one show open to all artists. These shows give artists an opportunity to exhibit their art and compete for cash awards.
ACA also hosts several art workshops which members can attend at a discounted cost.
ACA provides you with a monthly newsletter, membership card, a membership roster and interactive access to a state-of-the-art website, www.allianceofcaliforniaartists.com.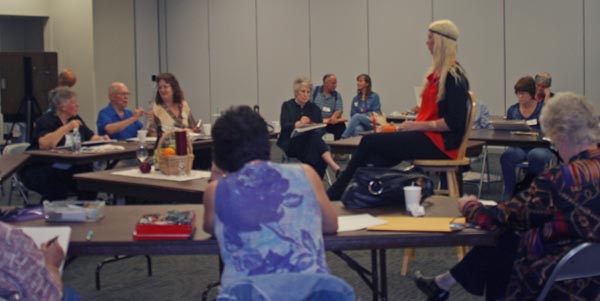 Clovis Art Guild
By Gail Daley
The New Year is beginning and it is time to consider becoming a part of our local art community. When I started to take my art seriously, I knew that peer group association was important for me to grow as an artist, but finding the right art group to join was a little frustrating. Why is it important to associate with other artists? Well, although you can create art in a vacuum, if your art is never evaluated by fellow artists, you may simply be stuck repeating the same type of art and art subjects at the same skill level forever. Peer groups challenge us to stretch our skills, reach for new goals and generally provide support when we are feeling down. Therefore, it is important to seek out those who are Sympatico with our ideals and feelings about our art. Local art groups can be invaluable in this area. I can recommend Clovis Art Guild as a group who gives a warm welcome and a sense of community to all members.
The Clovis Art Guild was established in 1957 to provide art related activities to interested members of the community. It is the Oldest art association in the Clovis/Fresno area. The Guild's purpose is to promote fellowship among artists, encourage enjoyment, understanding and appreciation of the arts within the community and to offer exhibits, shows, programs, art demonstrations and workshops to artists and art lovers. The Art Guild prides itself on extending a warm welcome to new artists and being a force to bring art to the community at large.
C.A.G. meets at 7:00 p.m. on the 2nd Wednesday of each month February through October at the Clovis Veteran's Memorial Building on 5th and Hughes Avenues and usually features a painting demonstration by a well-known artist, a quick-draw or hands-on activity, which is open to the public. Demonstrations and other activities are free to members, but a $5.00 donation is suggested for non-members.
C.A.G. sponsors 3 Fine Art Open shows each year: The Fine Art Miniature Works Show in February, The Old West & Rodeo Fine Art Show in conjunction with the Clovis Rodeo in April, and our Fall Open Show in October.
For More information on joining, go to our web site at http://www.clovisartguild.com or contact our Membership Chair, Alice Sutton, 559-787-2386 or President Gail Daley at 559-960-2428 or ClovisArtGuild@att.net