A History Of Art-Tique
What is Art-Tique? In 2005 while sitting behind their art sale tables at the Clovis Farmers market, Lea Adams and Gail Daley decided to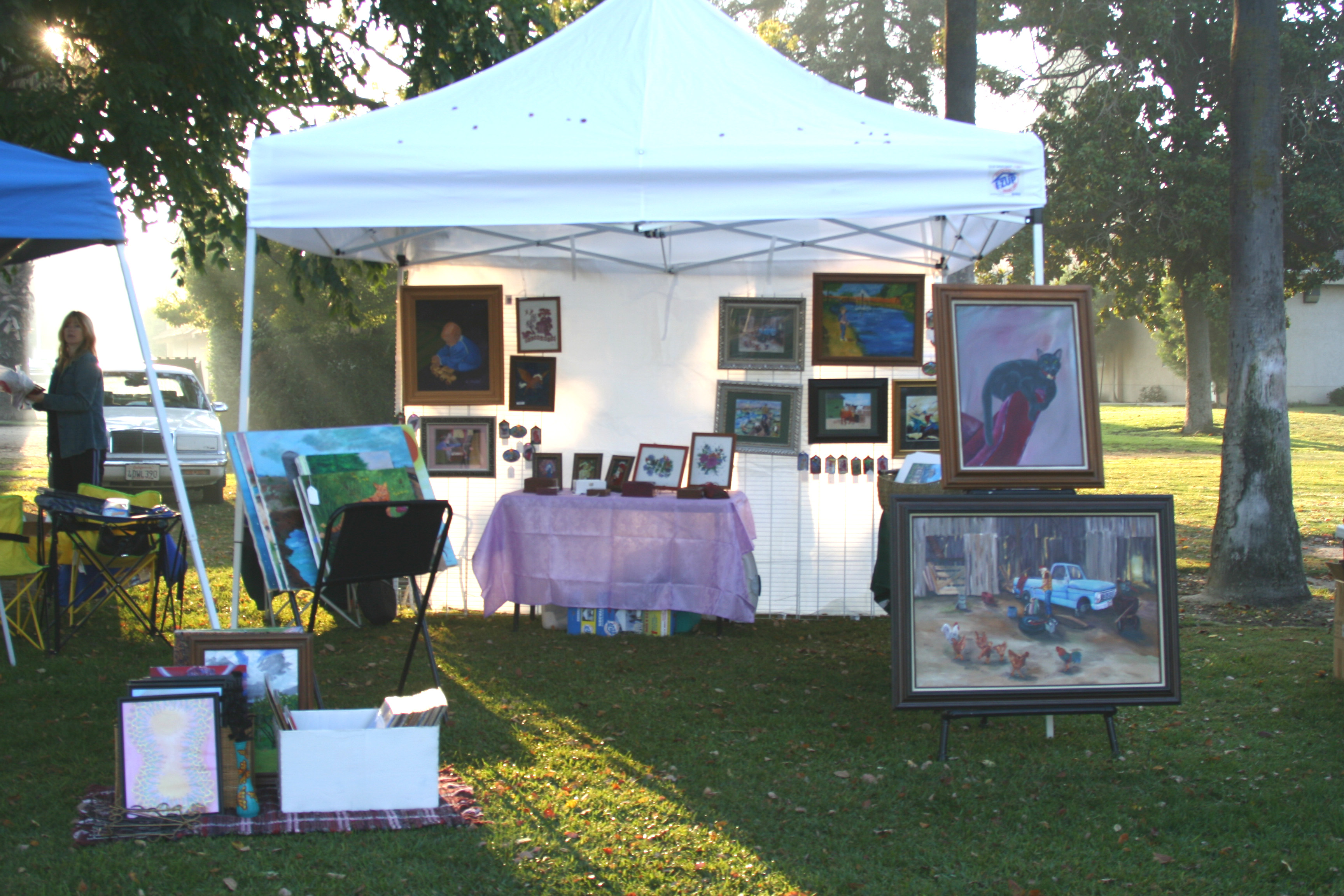 create Art-Tique because "everyone knew" people from the valley were traveling to the bay area to buy art and craftworks from their neighbors. Since both women lived in the Clovis/Fresno area, they decided what was needed were local venues to show and sell their work. Art-Tique was dedicated to finding or providing artists and fine-art crafters with a place to market their art. At that time, Art-Tique participants included artists, woodcarvers, jewelers, and makers of hand-made crafts. Some Art-Tique events were large with many participants. Some events were as small as one or two artists setting up in front of their homes. Art-Tique also utilized events put on by other agencies such as the Selma Art and Antique sale, the Iris Festival, Cobb's Christmas Farm, etc.
Art-Tique continually looks for places to hold events where members can set up without costing the participants an arm and a leg and for new artists, writers and craftspeople who are interested in selling their work locally. There are no dues. For sales and events, Art-Tique participants pool resources for advertising (signs, flyers, etc.) and utilize all the free publicity sites they can find. After bombing at a few events due to lack of advertising, it was decided that whenever Art-Tique participants attend and event, we take responsibility for letting our customers know we will be there. Members sometimes share booths at events to save costs. After each event, the participants are encouraged to get together and critique the event as to what mistakes were made and how it could be improved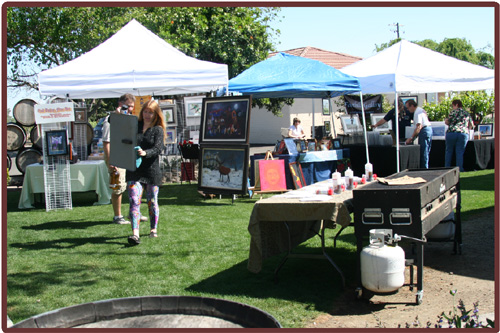 By 2006, Art-Tique had created two major events. In 2005, Art-Tique began organizing artists to set up booths at Englemann Cellars and the Cedar Crest winery during the Spring and Fall Wine tours. The Venue was free and art and wine have always been popular partners. Although Art-Tique is no longer responsible for setting up these events, artists can still be found setting up displays and selling art at Fresno and Madera wineries during the Madera Wine Trail and Fresno's Wine journeys.
Art-Tique's Walking Art Tour was a tour of Old Town Clovis and Fresno business and libraries who agreed to show Local Artist's work in their establishments. At one time there were 21 participating business, three libraries, and more were signing on all the time. Art in the Stacks at Clovis Regional Library, and the display at Cedar/Clinton Library were so successful that the libraries made them permanent. Cedar Clinton Library still has a major art presence and is a member of 3rd Thursday Art Hop.
The Clovis Regional Library partnered with Art-Tique to open a gallery inside the library called "Art in the Stacks". Artists from all three Clovis Art Associations, the Alliance of California Artists, the Clovis Art Guild, and Friends 'N Art combined their talents for a wonderful display of Artwork. The exhibit included paintings and sculptures from all three groups. The gallery opened July 9, 2006. In order for the display to stay fresh, new artwork was put in four times a year. Sadly, the Clovis library found that it could no longer make room for the art on the walls over the computers as changing it during library hours interfered with their patrons using the computers, and budget cutbacks didn't allow for the staff overtime needed for the library to be open after hours.
Beginning in February 2006, Art-Tique began promoting 'Art-Tique's Walking Art Tour" for Old Town Clovis, and at one time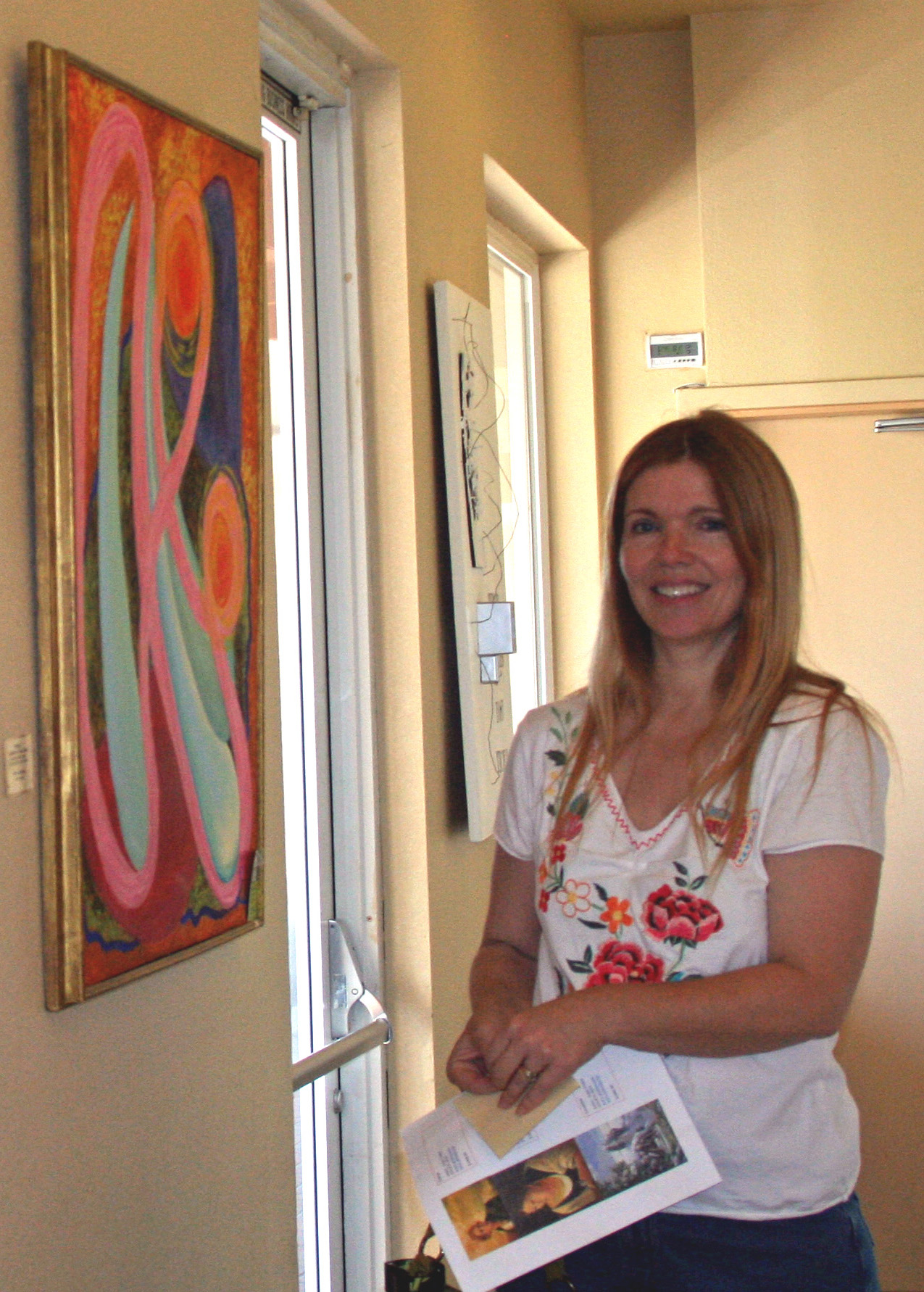 expanded it into Fresno as well. Local artists placed artwork in a participating business. The business got original artwork to decorate their establishment, and the artist got a chance to display art for sale. "Walking Art" was designed to do two things: 1) provide local artists with a place to offer their work for sale, and 2) increase foot traffic in Old Town Clovis by bringing customers into local business to view the art. Unlike Fresno's Art Hop, Walking Art businesses were open all the time during regular business hours. Participating Businesses were identified by the "Walking Art Tour" sign in the window or door of the business. Flyers showing where the art could be found were available in the Tarpey Visitors Station in Clovis @ 3rd and Clovis Avenues.
Participating Businesses were:
All of Me Clothing

Anna Paula Boutique (Fresno @ Champlain & Perrin)

Barbara's Fashions

Cedar/Clinton Library

Clovis Regional Library "Art in The Stacks" Gallery

Clovis Realty

Engelmann Winery

GoodFellas Old Town

Hatcher's Upholstery & Design

Help-U-Sell Real Estate

Kuykendall Music

Mortgage Center of the Valley

Nail Looks by Collette

Priss

Rodeo Coffee Shop

Salsa Restaurant

Sandy's Scraps

Savvy Day Spa & Salon

Scoops, Soups & More

The Bookworm

The Edge
Unfortunately, it was found that while this approach sounded like a win, win situation for all concerned, in practice it was discovered that many businesses who participated didn't consider the art and the artists should be kept in the loop as far as decisions concerning the displays in their store were concerned. After some unfortunate incidents, most of the art was removed from these sites. While Art-Tique is still willing to sponsor art in local restaurants, spas or retail outlets, we now require the business owner to sign a venue contract concerning removal of the art by anyone other than the Artist or Art-Tique.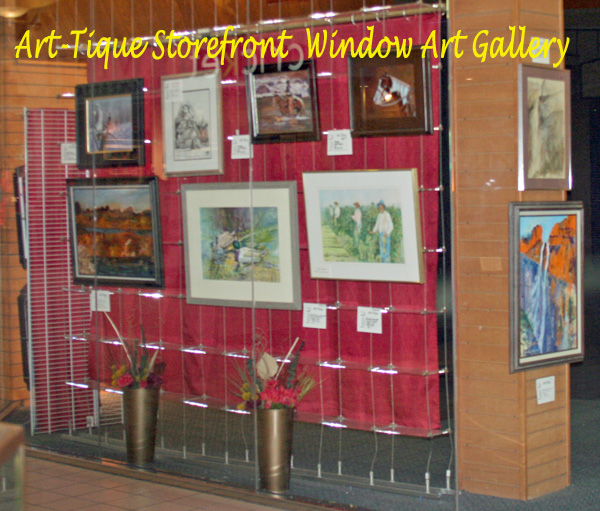 However, one door closes and another opens. Sierra Vista Mall, who has always supported local art and artists, made available some unused storefronts so that local artists, writers and art groups could set up window galleries. The mall gets colorful displays instead of blank windows to draw in shoppers, and Art-Tique members get the opportunity to advertise and sell their work. Artists decorate the windows, put up displays and leave contact information concerning pricing in the display. In 2011 Mall began allowing Artists and Writers to set up tables on the 3rd Saturday each month from February to October where artists and writers can demonstrate, sell, talk about their work or do book signings.
In 2008, Art-Tique began publishing the Local Art Event Newsletter. Art-Tique's Local Art Events Newsletter is a free monthly publication for the purpose of assisting artists and writers of California's Central Valley and Central Coast to find places to show/sell their work, make connections with the local peer groups, and find classes, workshops, and tools that help them develop artistic and writing skills and the business side of their work. A section of the newsletter carries news of meetings, workshops, contact information for various art groups, and classes. It now has over 250 on-line subscribers, and in 2013 began featuring profiles for local artists, writers, Art Groups and Multi-Artist Galleries. Art-Tique has also claimed its own domain name, and now has a web site: www.art-tique.org. Printed copies of the newsletter are usually available at the general Meetings of ACA CAG, and Allards Art supply in Fresno and the Kingsburg Art Center in Kingsburg. It is distributed on-line.
Lea Adams, co-founder of Art-Tique now lives in Tallahassee Florida. Gail Daley is now president of the Clovis Art Guild but she still puts out the Local Art Event Newsletter, organizes Art-Tique events at the Mall, and maintains Art-Tique's web site.